The DSC1001/3/4 is a series of CMOS oscillators based on silicon MEMS that provide excellent jitter and stability performance over a wide range of power supply voltages and temperatures. The device operates at a frequency of 1 MHz to 150 MHz, a supply voltage of 1.8 to 3.3 volts, and a temperature range of -40°C to 105°C.
Package type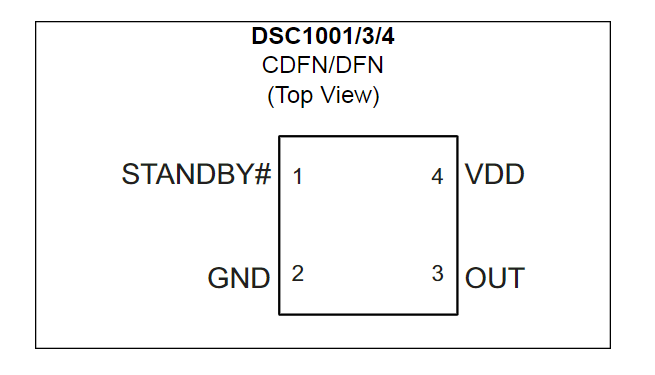 The DSC1001/3/4 incorporates an aluminum-silicon resonator that is very robust and almost immune to the stress-related fractures common to crystal oscillators.
Features
• Frequency Range: 1 MHz to 150 MHz

• Exceptional Stability over Temperature - ±10 ppm, ±20 ppm, ±25 ppm, ±50 ppm
• Operating Voltage - 1.7 to 3.6V

• Operating Temperature Range - Ext. Industrial –40°C to 105°C - Industrial –40°C to 85°C - Commercial –20°C to 70°C

• Low Operating and Standby Current - 6 mA Operating (1 MHz) - 15 μA Standby (Max.)

• Ultra Miniature Footprint - 2.5 mm x 2.0 mm x 0.85 mm - 3.2 mm x 2.5 mm x 0.85 mm - 5.0 mm x 3.2 mm x 0.85 mm - 7.0 mm x 5.0 mm x 0.85 mm

• MIL-STD 883 Shock and Vibration Resistant • Pb Free, RoHS, Reach SVHC Compliant • AEC-Q100 Reliability Qualified
Block Diagram
The crystalloless design enables higher levels of reliability without sacrificing the performance and stability required by today's systems, making the DSC1001/3/4 ideal for rugged, industrial and portable applications where stress, shock and vibration can damage quartz crystal systems.
Output waveform
The DSC1001/3/4 is available in an industry standard package that can "plug in" the same PCB footprint as a standard crystal oscillator. The DSC1003 and DSC1004 have the same functionality and performance as the DSC1001, but have higher output drives of 25pf and 40pf respectively
Test circuit
Solder reflux profile

Applications
• Mobile Applications
• Consumer Electronics
• Portable Electronics
• DVR, CCTV, Surveillance Cameras
• Low Profile Applications
• Industrial Applications